by Marc Guinjoan, Associate Professor, Pompeu Fabra University
http://elpatidescobert.cat/
What is the story?
The Catalan elections held in last November were perceived by many observers as decisive for the region. The ruling nationalist and centre-right party Convergència i Unió (CiU) called early elections with the promise to hold a referendum on Catalan independence during the following legislature. With only 50 seats, the party however lost 12 deputies in the regional parliament (out of a total of 135) and about 8 percentage points to reach a share of 31% of the votes.
Does that mean that Catalans rejected the idea of independence? Two pieces of evidence point in another direction.
First piece of evidence: Secessionist parties in the Catalan parliament
The results were not bad for parties supporting Catalan independence. Many of the former electors of the CiU opted for the secessionist party of the Republican Left of Catalonia (ERC), which became the second largest party after the CiU. In addition, the new pro-independence and far-left party CUP managed to enter the parliament with 3 deputies. The first row in Figure 1 shows that
The parties supporting Catalan independence represent a majority of the newly elected Catalan deputies (74 out of 135).
The left-wing ecologist party ICV is in white since their position on the issue in unclear. According to the polls though, more than half of their voters support Catalan independence.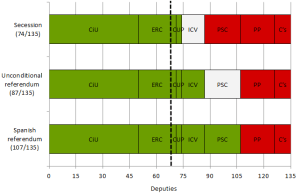 Figure 1. Catalan parties supporting secession and referendum
Second piece evidence: Pro-referendum parties in the Catalan parliament
Unlike Scotland or Quebec, the Spanish Constitution does not allow territories to organise a referendum about their independence. However,
Despite the threat that such a referendum would probably be declared illegal by the Spanish Constitutional court, the vast majority of Catalan deputies support this idea.
All the secessionist parties and the ICV are indeed in favour of holding a referendum on Catalan independence. As the second row of Figure 1 shows, they represent 87 of the 135 deputies. This number is even bigger when one considers the deputies of the Catalan branch of the Spanish Socialist Party PSC who would support such a referendum after having reformed the Constitution to make it legal (see the third row of Figure 1). This reform is however unlikely since it is not on the agenda of any of the Spanish national parties.
The ERC decided to support a CiU minority government from the opposition bench. The two parties signed a joint commitment to hold a referendum during the 2012-2016 legislature. As the Spanish government will probably do its best to discredit and prohibit this referendum, Catalan politics will surely reserve some very intense moments in the coming years.